Did I tell you that I made a Front Page of ETSY ? so I did :)
hmm And I decided to tell you something more about Wycinanki.
WHAT ?????? WY-CI-NA-NKI !!! !
Wycinanki (pronounced Vee-chee-non-key) are Polish folk art paper cutouts and are known through out the world as a beautiful craft. Thay are made by hand. And it used to be traditional and very popular craft in cottages in Poland.
The most well known styles of Wycinanki comes from two districts. One is the Kurpie are symmetrical and cut from a single piece of colored paper.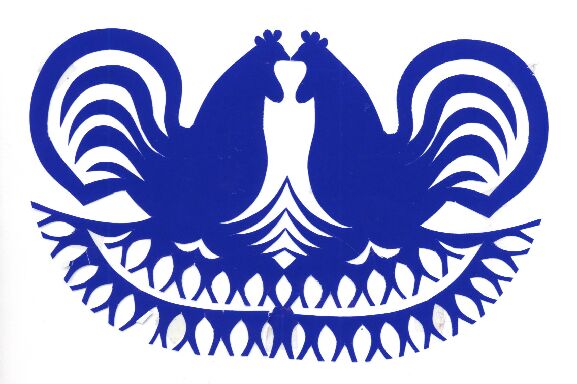 The second style comes
from the area of Lowicz. It is distinguished by the many layers of brightly colored paper used in its composition. Like the one
by Danuta Wojda of Lowicz. This wycinanka was commissioned in 1997 by British Ariways for decoration of the tail.
It is hard to believe that

these

subtle

designs are

made ​​using

sheep

shears

, like this:
Paper cutouts are a form of art that had its origins in China many centuries ago. In the 1600s, it spread to Europe.
Wycinanki

are similar to the Swiss and German Scherenschnitte paper cutting, are regarded by many as the most beautiful in the world.
I am in love in those motifs, color combinations, designs for a long time. We have so many beautifull crafts in Poland <and you will problobly know them as well reading my Blog ;-) > but I think that Wycinanki are one of the most beautiful things !
So while ago I decided to spread those motifs in the world by using them as a jewelry, and I think they are exactly fit for the Idea of wearable folk art :)
more of the Polish Folk art motif Earrings from madebymada
I want to show some of maybe most
recognizable use of polish cotouts :
logo of the 2012 UEFA European Football Championship
for the most
persistent readers .... One of my favorite artist! ... yes she is polish .. yes she sings in polish .. lol
but as I said it is for the most persistant raeders,listeners- Monika Brodka from her latest record "Granda" and the english title is "Crossword of the day" :
I am
curious
what do you think about it ? and about the video!?